Boarded Up House
Are you looking for a board up house specialist? If so, we can help! At Abob's Glass and Repair we have various services related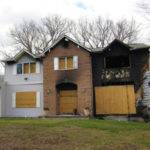 to glass replacement, such as board up services, sliding glass door replacement and commercial glass replacement. All of these services are possible if we have your type of glass in stock in our warehouse and do the job ASAP! However, when we don't, we need to order a custom glass cut accordingly to your window dimensions, and that's when a board up installation comes into place.
Why Hire Our Services
When it comes to glass replacement, we are the number one glass repair company in South Florida. We have crew members that serve Miami, Broward, and West Palm Beach Counties at all times. We understand a glass replacement is always an emergency; that is why, the minute you call our office, all our crews are alert that the closest truck to your property is the one serving you. We carry all types of glass in our trucks to make the glass replacement the same day you need us.
Abob's Glass and Repair crew members are well trained in the glass field and are certified to make the replacement with up to code standards. The security of your property and business is a priority because, in South Florida, windows need to be sealed properly due to harsh weather conditions such as hurricanes.
Board Up
As we remember this past year due to hurricane Irma, many houses were boarded up to protect the properties and commercial business from destruction. A board up service is not only for those type of scenarios; but also, as a temporary protection while your glass order comes to our warehouse facility. To begin a custom job like yours we need to protect your home or business ASAP, as our primary concern is to protect your family, belongings, and commercial investment.
Glass Replacement
A glass replacement needs to be perfectly fitting within the frames so no intruders can use that window as their way to vulgarise your property. A perfect glass installation could also save you hundreds of dollars in light bills every year. If the installation is not properly done, the AC will leak through the windows costing you more money at the end of the month. We are a company with great prices for our services, so don't hesitate to give us call and request our glass repair services!
Abob's Glass and Repair – Boarded Up House
For further assistance call 954-504-9789
Follow us on Facebook.