A Bob's Commercial Door Repair Service
Are you looking for a commercial door repair service? Whether it's due to the force of nature, years of wear and tear, or a burglar, the doors at your commercial building might need repair at some point in time. Since safety and security of employees are the top priority for a business, you should hire a professional door repair service for your door repairing needs. 
24-Hour Emergency Service
Whether your commercial building has suffered a break-in or an attempted burglary, or your doors and frames require reinforcing to guarantee the safety of your employees as well as belongings behind them, you need a fast and efficient solution.
We at A Bob's offer a 24-hour emergency service to repair doors after burglary. Emergency or not, we guarantee reliable and effective door and frame reinforcing and repairs, either to provide a long-term solution or temporary following a burglary.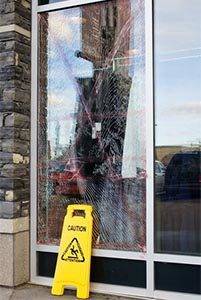 All Doors Repaired, Reinforced or Enhanced
No matter what kind of situation it is, whether you are missing a glass door and the frame is warped, fallen, or split, whether there has been an attempt of a break-in that has damaged the door. We can handle almost every door problem. Need an urgent and temporary burglary repair? No problem! Our technicians are more than capable of repairing/replacing doors not only for temporary measures but also for longer term preemptive reinforcement.
We provide door replacements, repairs, and reinforcements for glass, timber, steel, and UPVC doors and frames, including steel sheeting and re-hinging. Our knowledgeable and experienced techs will provide you the best service and the most affordable glass door repair solution for your business. Within a short notice, we can dispatch an expert to your location, and we can also arrange ongoing fast-response contracts for commercial organizations and landlords.
Other services include the following: 
• Repair of exterior glass doors
• Board Up services
• Patio Glass Door repair
• Weatherstrip replacement
• Adjustment of glass doors, pivots, and hinges
• Frame reinforcement
• Window Glass repair
When you need reliable and professional door experts to offer you exceptional glass door repair services, your best choice is ABob's Glass & Door Repairs Inc. We have highly skilled and certified technicians who work hard on a regular basis to provide excellent service to our customers. From door replacements to repairs to installation and everything in between, we focus on providing the high-quality service.
Our door repairing skills are unmatched because we have more than 20 years of experience in this business. If there is an issue with your doors, contact us and we will repair them instantly and get them working as they should, all at a reasonable and affordable price.
A Bob's Glass Commercial Door Repair Service
Professionals should always address door replacement and repair in Florida, and that is why we are number #1 choice in South Florida. A Bob's Glass & Door Repairs Inc. is always ready to offer professional door services you need. Call us today at 954-680-0506 for requesting any of our commercial door repair services or click HERE to fill out a quick form.