Emergency Commercial Glass Repair
Are you searching for emergency commercial glass repair? If so, Abob's Glass Repair can help! Nothing like a bad experience of having a commercial business burglarized by vandals in the middle of the night and receiving a phone call from your alarm system provider to make you aware of the incident. The good news is that a company like Abob's Glass and Repair can arrive in less than an hour and fix it immediately for you. We have crew members in every county with all the materials needed to start working ASAP! 
Why Hire Our Services
At Abob's Glass and Repair we were trained from the ground up from how to make glass, to its composition principals and properties understanding how to handle it and install it correctly. We have all the equipment right in our trucks cut the glass precisely and accordingly with the type of framing. Our courteous glass technicians can advise you with any questions you may have regarding the installation and the materials used for the job. Moreover, our company has what it takes to arrive on time and perform the task as scheduled. Our forty years of experience will show once you see the final product and your window looking like nothing has happened.
Other Services
Board up Services
Most of our board-ups are performed when we need to order a tempered glass for a commercial building. These type of glass can't be cut in our truck as it needs special equipment that only providers have in their warehouse facility.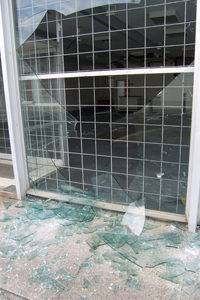 Sliding Door Services
These type of doors are a priority when the glass is broken as they are usually used as patio doors protecting from intruders. We can fix these windows once we get to your home as we carry the glass in our truck and we can cut it with the exact frame dimensions.
Commercial Glass Installation
These type of glass is specialty glass previously ordered to be cut precisely by glass providers. These type of glass is thicker and protects anyone around if broken, without harming anyone with sharp edges like a regular glass will do. These type of glass breaks into shredded little pieces without harming anyone if broken.
Abob's Glass and Repair – Emergency Commercial Glass Repair
For any of our glass services, please call 954-680-0506
Follow us on Facebook.