Glass Door Repair Company
After Hurricane Irma and all these unexpected weather phenomena happening in Florida, most homeowners found out at the last minute that their doors or glass windows needed replacement. What better opportunity that hurricane season is coming to an end and it's the ideal time to get them replaced.
Why Hire Our Services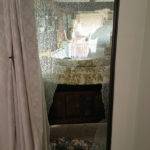 At Abob's, we are a glass door repair company that can service your glass door and windows any time of the day, seven days a week. We are compromised with our client's safety, and we deliver top quality glass window replacement for Miami, Broward, and West Palm Beach Counties. We have in stock all kinds of glass thicknesses, colors and tempered specialty glass for commercial and residential premises. Once you call us and send us the picture of the glass/door window, our glass man will arrive at your doorstep to give a closer look and confirm the price for you the overall job. This will include workmanship and the materials needed including the glass installation.
With Abob's window, glass replacement services rest assured that our team will serve whatever your glass door needs might be. Also, with the installation of the new glass, you will see the difference between the Air conditioning leaking from before and after. That slightly difference believe or not could make a difference in your monthly electric bill, especially if we are talking about a sliding glass door.
Other Services
Board Up service
Residential Glass Repair
Emergency Glass Repair
Window Repair Service
Storefronts Glass Repair
Window Leak Repair Service & Sealed
Mirrors Removed & Replaced
Door Repairs & Door Replacement
Abob's Glass and Repair – Glass Door Repair Company
For further assistance, please call us at
Dade: 305-204-7661 Broward: 954-504-9789 P.Beach: 561-235-0070
We will send our crew members at any time of the day, seven days a week! 24 Hour Emergency calls available!
Follow us on Facebook.